Q: What is a recycled ink cartridge or toner cartridge?
A: A recycled inkjet or toner cartridge that has been comprehensively cleaned, conditioned and refilled for use again. It is the ecologically friendly solution for printer cartridges that you can depend on to perform as well and last every bit as long as the original.


Q: Why do recycled printer cartridges cost so much less?
A: Frankly, we do not completely know the answer. Printer prices have become so cheap we suppose that, like the razor manufacturers, printer manufacturers make their profits from printer ink & toner cartridge consumables. Most of us spend more within the first few months on printer consumables, than on the initial cost of the printer. A quick check on our testimonial & Trustpilot customer review section will convince you that even though recycled printer consumables can save you up to 80% of the cost of original printer cartridges they are every bit as good.


Q: Do they last as long as the originals?
A: Yes. In many cases longer as our manufacturers fill all our inkjet and toner cartridges to the maximum level possible, consistent with good performance, whereas some manufacturers deliberately partially fill their printer cartridges, especially those included with the printer, as a matter of course.


Q: What guarantee do I get?
A: We provide a full twelve month warranty and "no quibble" money back guarantee on all of our own brand Inkjet & Toner Cartridges, unlike some of our less established competitors.
Our refurbished and graded electrical items and gifts also come with a full warranty, in some cases these are for a shorter period of time! Warranty details are shown in the product information panels like this.
Q: What happens if I'm not happy with your products? Or have problems?
A: Our product support team is available during office hours on a non-premium rate telephone line to help you. In the unlikely event of a flawed product we will replace it. Contact them here: support


Q: What does Refurbished mean?
A: Strictly speaking it means the renovation, repair or restoration of a previously used article. Our stock is sourced from a wide variety of outlets but the quality control process is the same.
Our range or Laptops, Computers, TV's, Tablets, Cameras and more are tested thoroughly to ensure that they meet the original performance and reliability standards, Hard Drives, Memory, Processors, Screens and components are all tested to ensure they pass strict quality standards. If there are any faults. or failures identified they are repaired with high quality components either original branded or alternatives and re-tested, please note that rechargeable batteries in things like Tablets, Phones, Laptops may have a slightly reduced capacity due to age, we will ensure they accept and hold a reasonable charge, replacing any faulty batteries with new. As part of the refurbishment process non UK or heavily worn keyboards can now be digitally re-printed or re-finished with laser cut vinyl full face key covers to ensure you get the best quality and finish.
Once they pass they are cleaned and then graded cosmetically. We run a grading system of As New, A1, A2 or Pre-Owned
We do not refurbish/repair products our selves, this is left to the specialists! We concentrate on finding you the best deals and widest choices. We do inspect all goods to ensure they meet our grading guidelines!
Finally all of our goods are sold with our own warranty to ensure that you have total peace of mind, should a fault arise within the warranty period we will collect the goods from anywhere in the UK and repair or replace them for you free of charge.


Q: What do your Grades Mean?
A:
New
Brand new unused product. Includes surplus, aged and unopened return stock. Sold with a 12 month manufacturer warranty. In original packaging. Unless otherwise specified.
As New
Open boxed returns/cancellations/surplus or full factory reconditioned stocks in Good As New condition. Sold with a full 12 month warranty. Shipped in retail or plain box. Packaging may show marks. Check individual items for additional specifications or special conditions.
Refurbished / Grade A1
Thoroughly tested and inspected. Products may show minor cosmetic marks and signs of use, including small scratches, dents or wear marks on keyboards/screens/touchpads. Sold boxed with mains adapter/charger and a minimum 3 month RTB warranty. No defect will effect item use/performance. Check individual items for additional specifications or special conditions.
Refurbished / Grade A2
Thoroughly tested and inspected. Products may show medium cosmetic marks and signs of use, including medium scratches, dents or wear marks on keyboards/screens/touchpads or minor cosmetic damage. Sold with mains adapter/charger and a 3 month RTB warranty. No defect will effect item use/performance. Check individual items for additional specifications or special conditions.
Pre-Owned
All items are thoroughly tested. Products are pre-owned. They may have considerable cosmetic marks, scratches or dents but none that effect the functionality of the item. All items are sold with a 30 day RTB warranty.
Q: Are there any products that can't be returned?
A: We cannot offer refunds or exchanges, unless faulty or not as described, on the following items: perishable or personalised products and products with a seal for health/hygiene protection are non-returnable unless there is a fault (including but not limited to headphones and shaving products).


Q: What is your returns policy?
A: In the unlikely event that your order has been damaged in transit to you, or is not functioning correctly within our specified warranty periods just give us a call or email us and we will be happy to assist you.
In accordance with Consumer Contracts Regulations 2015 that replaced the Distance selling regulations of 2000 You have the legal right to cancel your contract/order within 14 days from the date they arrive with you. During that time you are of course welcome to inspect the goods to a reasonable level. That is to say the same level as you would have enjoyed in a retail store. If the goods are New electrical goods then reasonable handling would not extend to testing/using the item, removing protective screen covers, breaking security seals etc.
You have a duty of care for the item and its packaging. Including but not limited to the way in which the item is packaged for return. If it becomes damaged or soiled wither in your possession or during return transit we reserve the right to offer a reduced refund, or in extreme cases a refund may be refused.
During the repair or replacement of electrical goods we may need to perform factory reset(s) or full operating system re-installations or replacement of Hard Drives. We can not accept any liability for lost or corrupt data as a result of any fault or result of any repair/replacement. In the case of Apple devices please ensure that you remove any Apple ID's from the device before returning it. We will not be able to replace/refund any Apple item that is ID/Cloud locked.
All items must be returned in/with original packaging and in as sent condition. In an ideal world all your purchases would be perfect – we do try our best – however there will inevitably be occasions when you need to return goods to Morgan.
In order to deal with your return efficiently it is vital that you obtain a returns number (RMA); this enables us to track your return efficiently and ensure there are no unnecessary delays. Please contact us on 0800 083 4555 or by email at [email protected] to obtain an RMA number; we will give you full instructions on how to return your goods.
Please note that if you return an item without first obtaining an valid RMA we can not accept liability for the return. The cost of returning unwanted items is yours. Items that are faulty or being returned under warranty will most often be collected free of charge or a freepost address issued - All warranties are UK Only.


Q: I'm nervous about giving you my credit or debit card details.
A: Quite right. That's why we don't want the responsibility of holding them. All credit and debit card transactions are undertaken through SagePay, one of the largest and most respected credit card processing companies, using the most advanced encryption technologies to ensure absolute confidentiality.


Q: Is my data covered under warranty?
A: We will not be liable for direct, indirect or consequential damage/loss including the loss/corruption or deletion of data stored, as well as the damage to any applications following a restoration or failure of the product for any device supplied by us. The consumer should be reminded that it is their sole responsibility to back-up the data stored on the hard disk / internal memory of their device or external storage media.


Q: Why has my order been split into several small parcels?
A: This permits us to use special packaging that has been specially designed to fit through your letterbox, minimising any inconvenience of having to be in to receive your goods and allowing us to deliver national inkjets & toners. If you have only received part of your order please allow a day or two for the rest of your order to arrive.


Q: Will you pass my information and details to other companies?
A: Absolutely not. We hate spam as much as you and guarantee we will never pass your details to any other organisation.

Q: Why do you offer the same product for more than one printer or manufacturer model?
A: There are far more printer models, than there are manufacturers of the printer engine. Many motor cars share the same platform and parts, so too many different printers will have the same the engine and require the same inkjet ink cartridge or toner cartridge.


Q: I don't like dealing with new companies, who may not be there tomorrow. Are you one of them?
A: No. We are an established firm with over 200,000 satisfied clients. We have turned over in excess of £10m and are part of a group that serves more than 450,000 clients across the UK and Europe.


Q: Will buying recycled cartridges affect the warranty on my printer?
A: The answer should be no, and the Office of Fair Trading has written to printer manufacturers making this clear. In the unlikely event that a cartridge of ours did damage your printer, we would of course replace that printer.


Q: Why are your products less expensive than many other similar recycled products?
A: The answer, very simply, economies of scale. We buy more than 2,000,000 printer products per annum and can demand from the manufacturers not only the highest quality, but also the best prices. We pass this benefit on to you. Many of our inkjet and toner products are sold under different labels by the largest high street and business catalogue organisations.


Q: Can my school or business take advantage of your products and prices?
A: Yes. Just email either [email protected] or [email protected] and we will do the rest.

Q: Is the battery on my laptop covered under warranty?
A: On new and Grade A1/A2 refurbished laptops/Tablets the battery will be covered by either our warranty or the manufacturers warranty. However as re-chargeable batteries are a consumable item, we only warranty that the battery will be in working condition, able to accept and hold a charge for a reasonable time, and will take into consideration the original battery expectations and the over all age of the laptop. In he event of battery failure, or a battery not holding a charge for a minimum of 60 minutes during the stated warranty period we will offer to replace the battery directly or offer a credit to the value of a suitable replacements, non original/manufacturer parts may be used.
On 2nd user machines we only guarantee that a battery will take and hold a charge. There is no guarantee of battery life.


Q: Can you upgrade a windows 7 PC to Windows 10?
A: In most cases we can upgrade any of our current Windows 7 product lines from Windows 7 Home to 10 Home, or Windows 7 Pro to 10 Pro.
To upgrade yourself could cost over £150 via Microsoft since they stopped last years free upgrade option for end user.
As we are not a certified Microsoft partner, any upgrades will be sent away to have a full and genuine refurnished PC upgrade done, fully installed and certificated.
Lead times do vary but typically are 7-14 days and there is a cost per item from £49.90.


Q: When will Microsoft stop supporting Windows 7?
A: The information supplied by Microsoft support on the life cycle of its operating systems says that Windows 7 'mainstream support' ended 13th Jan 2015!
Extended support and updates for Windows 7 will be withdrawn Jan 2020!
You can continue to use Windows 7 beyond that date! It will NOT stop working... But you will no longer get automatic or potentially any Windows updates or security patches so you should ensure you have a good anti virus and or internet security package installed.
You can upgrade your existing PC via Microsoft Directly or you could put that money towards a replacement from us with Windows 10 Preinstalled!
For more info please refer to the Microsoft life-cycle page - HERE


Q: What type of Video connector do I need for my screen/PC/Laptop?
A: There are several types of AV connector, suitable for laptops / monitors & PC's. Some more less common or more obscure than others! Here is a guide on what they look like and what they are called!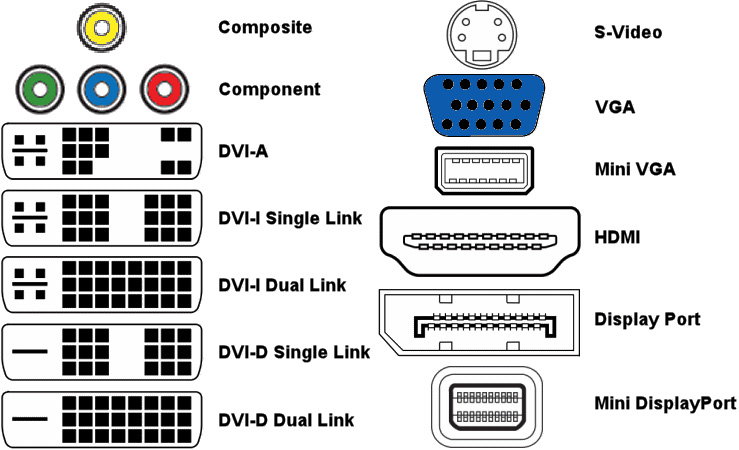 Q: What is DMS-59?
A: DMS-59 (Dual Monitor Solution, 59 pins) is generally used for computer video cards. It provides two Digital Visual Interface (DVI) or Video Graphics Array (VGA) outputs in a single connector.
DMS-59 splitter/cables are available at low cost and in a range of connection styles(DVI, VGA, Displayport). Allowing the user to run twin screens from a single DMS-59 socket either as mirror screens or extended desktop/work spaces. Below is an example of a DMS-59 to VGA cable:
Q: When will Microsoft stop supporting Windows 10?
A: The information supplied by Microsoft support on the life cycle of its operating systems says that Windows 10 'support' ends Oct 2025!
Keep your Windows 10 Up to date and the support, security and patches will continue until that date.
You may well be eligible/offered an upgrade to Windows 11 by Microsoft at any point during this time via Windows Update. That 'upgrade' may well be offered FREE, subject to your system being compatible.
For more info please refer to the Microsoft lifecycle page - HERE


Q: Will the PC/Laptop upgrade to Windows 11?
A: There are a number of minimum spec requirements for upgrading your PC or laptop to Windows 11. It's currently Free to upgrade through Windows updates if your PC or laptop meets the following requirements -
Storage 64 GB or larger storage device
System firmware UEFI, Secure Boot capable. Click here for info
TPM Trusted Platform Module (TPM) version 2.0. Click here for info
Graphics Card Compatible with DirectX 12 or later with WDDM 2.0 driver
Display

HD

(720p) display that is greater than 9" diagonally, 8 bits per colour channel


Q: How do I enable dual screen on my PC or laptop?
A: Despite popular opinion, it's actually possible to set your PC with 2 screens and your laptop up with 1 additional screen without the need for an expensive graphics card.
Using Windows 11, select Start > Settings > System > Display. Your PC or laptop should automatically detect your monitors and show your desktop. If you don't see the monitors, select Multiple displays > Detect.
Use the dropdown list next to the image of your desktop to choose how your screen will project across your displays. Once you've chosen your setup, select Apply.
Using Windows 10, select Start > Settings > System > Display. Your PC or laptop should automatically detect your monitors and show your desktop. If you don't see the monitors, select Detect.
You will see a Multiple displays section, from the drop down box make sure Extend these displays is selected.
Once you've selected what you see on your displays, select Keep changes.
Using Windows 7, right-click any empty area of your desktop, and then click Screen resolution. Click the Multiple displays drop-down list, and then select Extend these displays.
If you cannot see the additional monitor(s) listed, click Detect. If that does not work, try restarting your computer and do the first and second step again.
Select Apply and then OK to keep these changes.


Q: Identifying the different USB connection types
A: There are several different types of USB connections. While most are easily identified and used in almost all commonly used devices, some are a little more obscure. Here is our guide to identifying each different type:
Q: How do I remove Ads from my Amazon Kindle or Fire Tablet
A: If you have an Amazon Kindle or Fire tablet with ads this means you'll receive sponsored screensavers and special offers directly on to your device. To unsubscribe from this service you will be charged a one-time payment by Amazon. Follow these 3 steps:
Go to Manage Your Content and Devices
Select Devices, and then select your Kindle e-reader or Fire tablet
Under Special Offers, click Remove offers. A pop-up window then displays the price to remove ads. Select End Offers and Pay the Fee to proceed